Torisho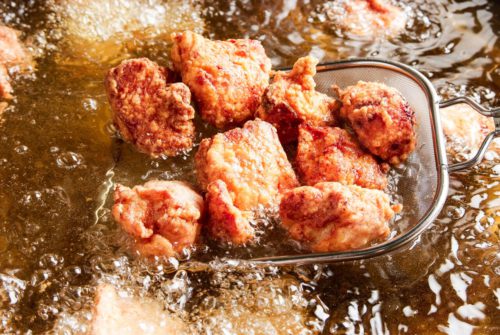 In the second brand story, we interviewed Takafumi Iwami, CEO of NIS Co., about the business foundation and the company vision. We were not previously following the business until we received an overseas inquiry, but we have had very interesting talks.
Nakanishi:I heard about Torisho for the very first time from an overseas Hong Kong franchise coordinator inquiring "I really want you to check out Torishio. Does the franchise Japan know this brand? I want to introduce it to investors." I am very sorry that I did not know about Torisho, which locates its franchise headquarters locally here in Osaka. The naming "laughing with chicken" sounds straightforward and appealing to people with Chinese descent.
Iwami: I see. We are a franchiser specializing in fried chickens. Our operations have increased to nearly 150 stores in the past 4 years. Our brand names have been seen on franchises' leading advertising sites, but we started to advertise quite recently.
Nakanishi:I feel you make people relaxed and easy to be oneself when people are talking to you.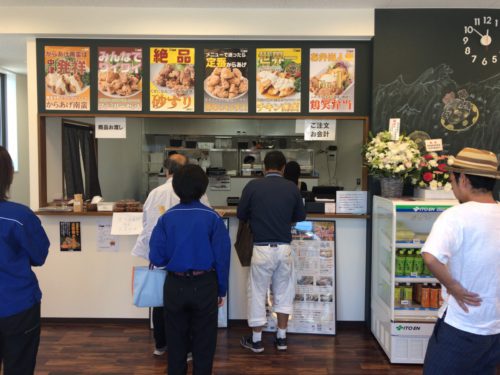 Iwami:
We took time to grow this business. Ten years ago, a friend of mine was running a fried chicken specialty restaurant at Nakatsu in Oita. It had such a long line of people waiting that they could not even handle all the customers. I was very curious, "Why on earth would one restaurant become so popular in the dense area of many fried chicken specialty restaurants, which was even called the fried chicken street?", so I visited the restaurant. Then I saw the really long line of people waiting in the small town called Nakatsu where about 40 fried chicken specialty restaurants were packed. I've tried other restaurants as well, but my friend's restaurant was absolutely the best. The restaurant had twice as many sales as other stores. It was also impressive that they kept the place tidy. I was very fascinated and opened my first restaurant near the area since I also had my business in Urawa at that time.
Nakanishi: What kind of work did you do at that time?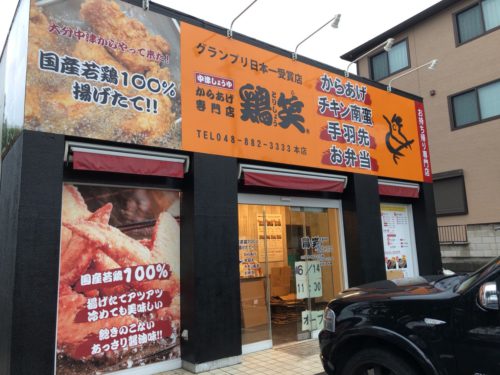 Iwami:
I ran businesses in recycling and welfare industries. At first, it was a side business for me and I let my employees run the business, and sales went up slowly but surely. One day, I looked at the sales table and realized, "I need to take this business seriously!" Typically, fried thigh meat tastes better, but it is the "fried breast meat" that tastes amazing. The breast meat is soaked in our secret sauce for two days. My friend, a dedicated owner, has focused on the ingredients of the sauce and kept improving until he came up with the existing taste. Since we support business owners looking to open a business, we first have potentials owners try tasting our products and provide them a site tour to show them how we operate instead of getting into the details immediately.
Nakanishi: Yes, I went to one of your restaurants in Yoshida in Higashi Osaka. It was an eye-opening experience because the access to the restaurant was not easy. The area was surrounded by car traffic, and there is no dedicated parking. I asked myself, "Is this an Ideal location of a thriving excellent restaurant (laugh)." Regardless, I understand Saturday is the busiest day. I was impressed by the efficiency of rotating staffs, the ability to start the business with a small capital with no furnishing, and of course the amazing taste.
Iwami: In fact, there was a time when the business did not do well even though it was opened in a busy shopping district. Today fried chicken has become a national food. The franchise owner of this excellent restaurant has recovered the investment cost in six months and opened a second restaurant. Our proud business models include no experience required (as you know as a basic characteristic of the franchise business), delicious, and profitable even at second and third grade locations.
Nakanishi: That's true. It is easier for me to recommend the business to potential franchisees with the model in which daytime shift can be rotated by female staff alone. Did your wife run the first restaurant in Osaka?
Iwami: Yes. At first my wife was running the restaurant. The restaurant in Saitama has also grown with the word of mouth. Not because of advertisements, but many regulars and friends approached and said "I want to do the business because it is so delicious.' so I decided to go with the franchise model. In the first 3 to 4 years, I felt that sales were increasing very slow, and name recognition was not increasing either until about 30 restaurants. The business growth was truly slow until about 50 restaurants. However, everything started to move very quickly after that.
Nakanishi: Word of mouth is such an ideal movement. What do you think are the key points?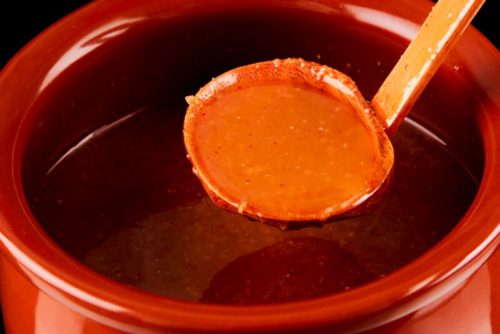 Iwami:
We repeat simple routines that breast meat is soaked for 48 hours, thigh meat for 24 hours in the secret source. The menu has rarely changed and the existing few menu items are the most delicious and popular. We use the brand of oil that is best suited for fried chicken, and recently have selected Saga rice for Bento boxes. We did not have many rules to restrain operations. The majority of franchisees opt for To-Go style, but some do Bar style. Our model is a community-based / residential model, not an urban model, I suppose. Recently, less housewives are frying food at home, and our foods are positioned like "a delicatessen to take home and eat".
Nakanishi: What were your hardships?
Iwami: Indeed, I am not aware of any struggle. When I look back, I feel I was lucky on numerous occasions. Of course, some of the franchisees didn't go over well and closed the business, but it is only 10% of the entire business, which I think overall the number is quite low. The headquarters certainly offer training for customer service. We do not need our supervisors to frequently visit franchizees like other industries do because of our simple business model. The franchisees need to buy chicken meat at a carefully selected designated wholesale store, and the headquarter provides sauce. That's it.
Nakanishi: Have you developed a new business?
Iwami: Yes. It is the yakiniku style restaurant specialized with chicken called "Kashiwaya Shogun". One of the wholesalers mentioned ' there is a restaurant that stocked a huge amount of chickens and is super prosperous". I was very interested in the restaurant as we both handle chickens. I got the name of the restaurant and went to check it out. When I learned how simple their operations were, I shouted "This is awesome!" with a great excitement for the first time in past 10 years. We will put more effort into this brand. Form this point forward, we will focus on franchising well-established restaurants. In our recent achievement, "Menya Gozan" is also our developd brand with simplified operations, the dipped noodle restaurant in the popular ramen noodle business. We also provide sales support. When sales do not increase, we continue working together and find solutions to what needs to be improved.
Nakanishi: Please tell me the origin of Torisho.
Iwami: Instead of thinking hard, I decided it in a single shot to "make happiness with chickens and make everyone smile". My humble wishes are that with the simple operations, franchisees simply make great profits, and they make their employees happy.
Nakanishi: You seem to act very quickly on everything as "immediate action and immediate decision". Is expanding your business to overseas included in your vision? Please tell us your future prospects.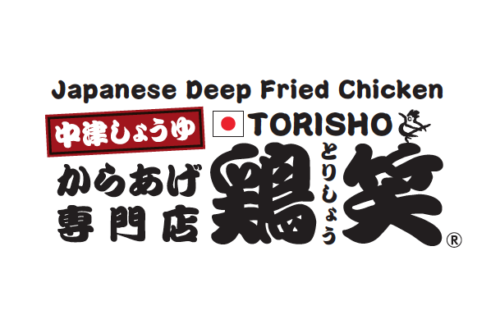 Iwami:
Yes. The first overseas restaurant has opened in Taiwan on June 27th. It is located in Ekinaka, Taipei and doing very well. This is a master franchise opportunity connected by an acquaintance, and the local media also pays a great attention to the business. Also, there was a recent inquiry from Canada that they are very interested in doing the master franchise in Canada. When they visited Japan, they tried the food and thought it was delicious. I'm also looking into Southeast Asia, but after all, my ultimate dream is to fill the land of America with a hundred of Torisho nameboards. I am absolutely confident that people from all over the world will enjoy delicious "Torisho" fried chickens with big smiles and happiness because chicken is an ingredient that people from all countries consume.
Comment by the interviewer
What amazed me the most was the juiciness of the breast meat when I sampled it. President Iwami and a development team member told me beforehand, "It's really delicious"., and it truly exceeded my expectations. It was an eye-opening experience from the very first bite. I could smell garlic and ginger, but the secret sauce ingredients are absolutely confidential. Most of all when I see how relaxed and humble President Iwami has been, I feel that his American dream will come true. By Lika Nakanishi