Taiko Center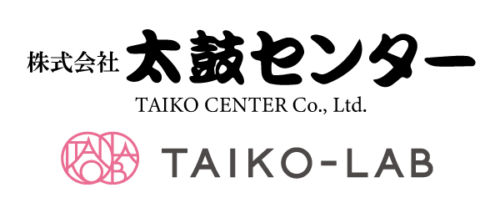 I first discovered Taiko Center on a franchise website. As the US representative of Franchise Japan (FCJ), I was browsing franchise businesses to see if there were any exciting brands that could be expanded between Japan and the US. As I was going through the list of ads', my eyes opened wide when I found my favorite "Taiko (Japanese drum)" advertisement.
I started taking Taiko lessons with my husband in Phoenix, Arizona last September, and have already performed at two local Japanese festivals. I immediately contacted Lika, my FCJ associate in Japan, and found that the President Higashi and Lika are close business friends. Moreover, she informed me that a taiko team from the US was just visiting Taiko Center, and we found the team was from Arizona! I felt we were meant to connect, and our meeting has happened at a dramatic speed.
Yurie:It is my pleasure to meet you! Thank you for making time today! First of all, could you tell me about the current activities of Taiko Center?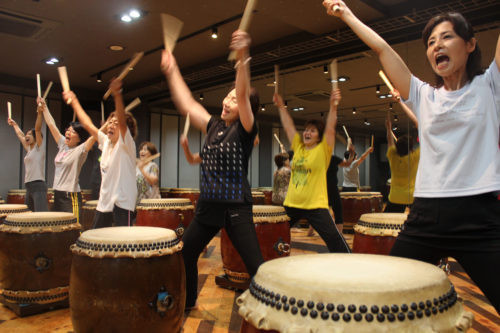 President Higashi: Our company consist of two primary functions; Taiko Center Co., Ltd., business operation, and TAIKO-LAB, which offers various classes. The name of TAIKO-LAB was born in a collaboration with Taiko and laboratory, and currently it is growing rapidly.  99% of Taiko business in Japan are operated with a business model which forms a team and makes profits by performing to customers. Taiko Center, on the other hand, simply wishes people to experience Taiko and become happy by playing Taiko. TAIKO-LAB has the management philosophy based on our slogan "Let's play taiko together that touches our heart and body." and strives to promote work that supports people's health and happiness, which leads to peace of whole world and the happiness of our employees.  Our passion is founded on the idea of contributing to people's health and happiness. Since playing Taiko not only promotes increasing the amount of exercise, but also connecting people and tremendously advancing social skills, we focus on how to extend these amazing benefits.
Classrooms can be opened if you have a soundproof studio, instructors, Taiko drums, other musical instruments, and of course students. We always put a great effort into continuously training instructors. Taiko enthusiasts joined our center to advance their skills in teaching, and we currently have about 150 instructors.
Yurie:Will you tell me what it takes to become an instructor?
President Higashi: Teaching and playing Taiko drums are completely different skills. Taiko is played in various places such as clubs, communities, and events, and people who love playing Taiko knock on our door one after another. You will learn the teaching skills from senior instructors during the on-site training over a period of 6 months, and if you pass the exam, you will become an instructor.
Yurie: Is it possible for someone like myself whose Taiko career is only a year to become an instructor (laughs)?
President Higashi: We also offer the health-oriented Taiko class for senior citizens. Even if you don't have a long history of playing Taiko, you can become its instructor if you are good at teaching.
Yurie:I am motivated! Next, can you tell us how you got into the Taiko world, and your journey of Taiko Center foundation in its 30th anniversary this year.  I heard you studied law at university.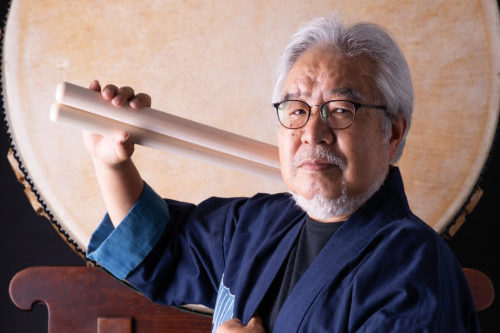 President Higashi: I majored in law at university but joined a choir team, and I put the most time and effort into choir club activities during my college life. I think music provides people unexceptional energy when it touches their heart. I experienced the amazing moments through the activities and my firm decision to engage in work involving music was made at that time.
After I graduated from university, I founded a music center and formed a local children's choir team. While I was teaching music to local children, I was asked to teach them Taiko. In 1970, I began teaching children music through a chorus and Taiko collaboration. When I saw the children's energy sparked through playing Taiko, my desire to teach Taiko to children has deepened and extended nationwide.
First, we created a Taiko performing team exclusively for children to educate about Taiko and performed in schools. During the spring and summer school breaks, we gathered teachers at the school and held workshops to educate teachers to spread Taiko to children. However, about half a year later, when we were practicing Taiko at the place we rented, we received complaints that the sound was too loud. Taking this opportunity, we decided to open a soundproof studio and started taiko business activities at full scale, which, was about 15 years ago. We recruited students targeting housewives for morning classes, children during the daytime, and working women for the evening classes, which lead to an initial full-scale development of the TAIKO-LAB classroom. We currently operate about 30 studios and about 5,500 members nationwide.
Yurie:Taiko has been known to traditionally played by male, what kind of diversity do you have in your members? 
President Higashi: 80% are women in our member diversity, and those who have continued a membership for more than 10 years will receive the Taiko Master Award. Currently, there are four studios that have been operating for more than 10 years. Taking the remarkable occasion of achieving the 30th anniversary, we have examined the continuation rate of our members attending those studios, and found that 650 out of 2000 members maintained the membership for more than 10 years. We also have a senior member who joined at the age of 98 will be 100 years old this year. She needs a cane to walk, but when it's time for a Taiko class, she vigorously plays Taiko with both hands. I am thinking to give her a special award at her birthday for an example of healthy life. 
Yurie:That sounds wonderful! Japan is famous for people's longevity, but lacking of quality nursing care has been a serious problem as well as in the US.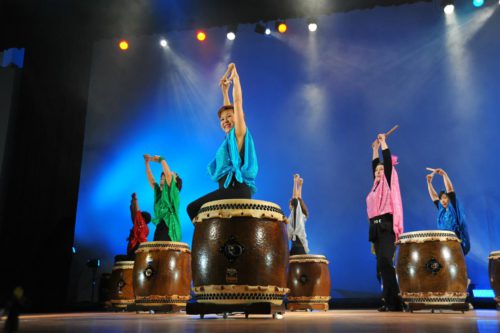 President Higashi: We often hear the term "healthy life expectancy" nowadays, the average healthy life expectancy is 70 years for men, 74 for women. After that, people tend to be sick and need care from others. It is important to extend the healthy life expectancy, and Taiko has been proven to have a great effect. According to a doctor of the care prevention organization, the three important factors for preventing dementia are proper exercise, brain training, and communication with people that playing Taiko excellently fulfills all these three factors.
Also, not limited to senior players, when people play Taiko, their minds are fully occupied and focused, which means the essence of people is exposed. Consequently, playing Taiko enables people to frankly communicate regardless of their business titles or social status, it dramatically improves teamwork.
Yurie:I remember my Taiko Sensei told my team at the early stage of learning Taiko when people started to feel some frustration as they could not play well as expected, "No matter how well you are performing at work or elsewhere, here you are not better than any of your team members." We realized we were all beginners (laugh).
President Higashi: For many years, "Taiko team building" has been popular with corporations in addition to individuals and the demand with corporations is rapidly increasing. One of the companies that I know has been practicing Taiko team building for 20 years, and the retention rate of employee has increased considerably. In addition, as the modern workplace is very stressful, employees can sweat and be refreshed by blasting Taiko that produces various sounds depending on how they hit. As a result, employee come up with a lot of creative ideas in their workplace.
Yurie:Taiko that is handy and profitable for companies sounds amazing. Can you tell us your plans for overseas expansion?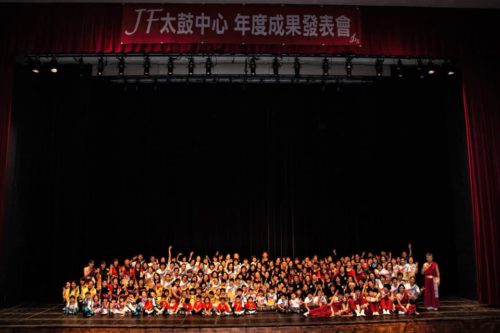 President Higashi: Currently the TAIKO-LAB business model has been expanding in Taiwan. Instructors in Taiwan participate in instructor training camps held in Japan every year. TAIKObicx, which was devised by combining Taiko and aerobics, is also very popular there and children will be delighted when we bring choreographed songs with Taiwanese songs when we visit Taiwan.
Yurie:TAIKObicx sounds like a lot of fun. In the US, a group fitness using bachi (Taiko stick) is gaining popularity, so even those who are not familiar with Taiko may easily try out TAIKObicx first. Here in the US, we make Taiko out of wine barresl and practice at the Dojo (martial art classroom). I would definitely support spreading TAIKO-LAB to the world for the health and happiness of people not limited to Japan and Taiwan.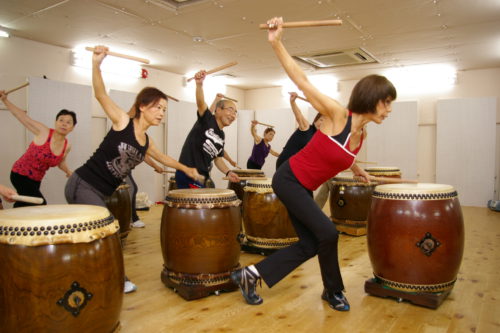 President Higashi: Please spread it to the US. In initial instructor training, we can come to you and give guidance. Above all, it is very important for you to experience the joy of taiko and spread it from the experience. With such fun and excitement, I am confident that TAIKO-LAB will expand to the world.
Comment by the interviewer
I was thrilled to know that playing Taiko brings such great benefits including corporate team building, a new form of group exercises, and prevention of dementia, a major social problem in the US as well as Japan as our lifespan extends. The fact that as many as 650 students have been playing Taiko for more than 10 years is quite impressive and I believe it is because of the caring heart and personality of President Hasashi.
While many people keep searching for career they enjoy, the President Higashi was very lucky to find it at his young age, but it was even more wonderful that he made his decision come true. By Yurie Levack