MOMIDARE YAKINIKU SHISHIROU
Franchise Japan's brand story mainly tells the story of the birth of the franchise brand.
In this 9th edition, we interviewed Mr. Shirou Nagahara, the managing director of Ichibanochikara Co., Ltd.
President Nagahara started Kyokushin Karate at the age of 7 and continues to teach courtesy and etiquette through karate to many children as the dojo master of Kyokushin Kaikan Nagahara Dojo. He is a very unique person, having won the All-Kansai Tournament in the past and represented Japan at the International Tournament in Russia.
Nakanishi:Your first name, Shirou, is used for the brand name of MOMIDARE YAKINIKU SHISHIROU. The lion logo is very symbolic and gives a sense of momentum. I heard that you were not originally like yakiniku.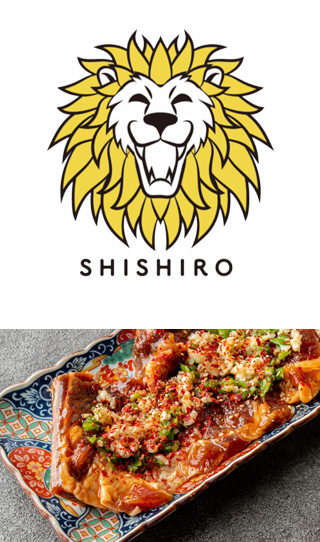 Nagahara: I have become less and less fond of oily food over the years, but there is only one yakiniku restaurant that I prefer to visit almost 20 years, which is a hormone yakiniku restaurant. The meat is well marinated in sauce from the beginning, so you can enjoy it as it is. The spicy hormone is delicious and addictive, and I return to this restaurant again and again. Thinking that this flavor could compete nationwide, I initially encouraged the owner of this restaurant to open more restaurants. Finally, he said, "Why don't you try it yourself?" "MOMIDARE YAKINIKU SHSHIROU" was born through our much research during COVID-19. We were serious about recreating this taste, and finally succeeded it. Now, the owner of this yakiniku restaurant comes to our restaurant and compliments us, saying, "It tastes better than my restaurant. What came to mind was the famous words of Mr. Den Fujita, founder of McDonald's Japan, "Sell what you are not good at."
Nakanishi: I was impressed that at SHSHIROU's restaurant, the staff was very crisp and polite in their explanations.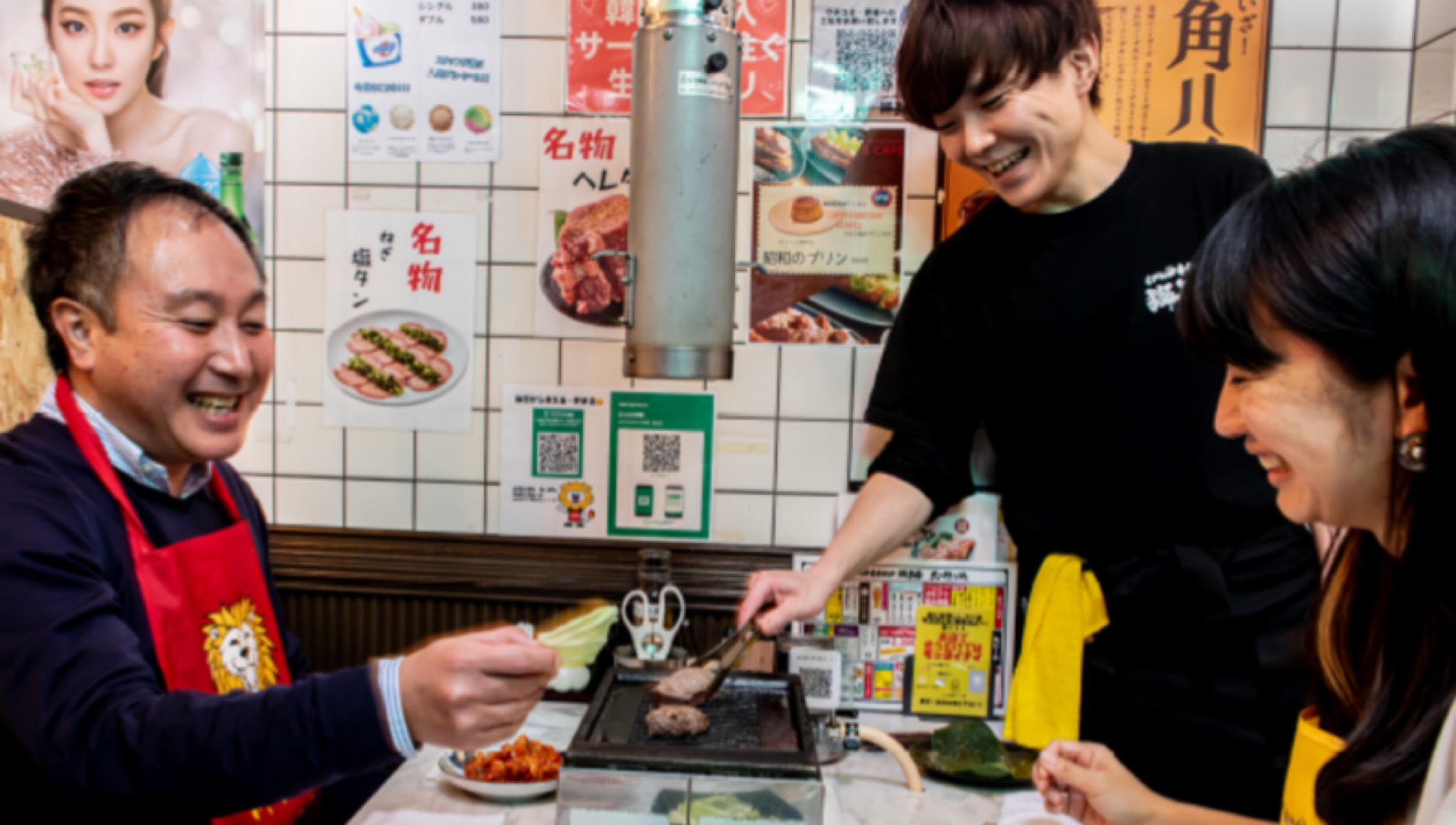 Nagahara: I am keenly aware of the importance of human resource development as a necessary factor in this day and age. This is something I have learned in my many years of running a company in business categories other than food and beverage. When my management was going well, there were times when I felt like I was the main character and misunderstood myself, but now I try to make the restaurant a place where the staff members take the lead and shine, and create a place where they can feel the most satisfaction the time they spend interacting with customers.
Aiming for Michelin is part of our challenges, and our staff members take pride in their work and carefully explain how to eat and grill the various types of meat. Everyone says "you can't get a Michelin for yakiniku". But we are serious about winning Michelin! With this in mind, our staff assists customers to avoid overcooking the meat. It is the role of the leader to lead the restaurant in the right direction, and I have one-on-one dinners with all employees, discuss things thoroughly, and take action to help the restaurant grow as an open organization. In addition, we have adopted a know-how that does not require "teppan (iron plate) replacement," which is a standard operation in yakiniku restaurants, and we have achieved this by involving and cooperating with our customers to avoid the heavy workload part. This is one of our unique techniques, which also takes into account the fact that the meat juices soak into the teppan and the meat cooks better on a well-used teppan. What is common knowledge in an ordinary yakiniku restaurant is not common knowledge for us. Every day, through trial and error, we are constantly evolving by asking ourselves, "Is this the right way to do everything? We also value on reproducibility, which is one of the most important elements of a franchise business. In our operations so that even part-time employees can take responsibility and become the main staff of the restaurant. We are confident that SHSHIROU will be able to succeed in this approach, utilizing our 20 years of experience and hard work in yakitori restaurants.
Nakanishi: In 2023, SHISHIROU represented Japanese yakiniku restaurants at the Japan booth hosted by H I S at the International Franchise Expo 2023, one of the world's largest events, held in New York City from June 1 to 3. How was the response?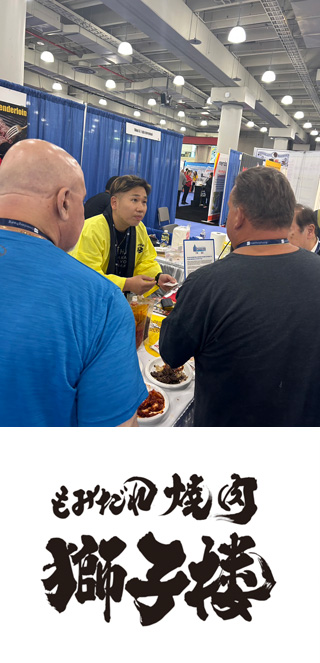 Nagahara: The response was very positive. Many visitors to the Japan booth tasted SHSHIROU. Thanks to this, business negotiations are currently underway in the U.S. We had a strong feeling that we will success in exhibiting, but now I am firmly convinced of the success of our business. At the exhibition, I was still able to experience firsthand the different scale of investment in the U.S. economy. In the future, I intend to take advantage of more and more opportunities like this to make contact with investors and prospective franchise candidates.
Until now, the main type of yakiniku in the U.S. has been Korean barbecue, and Japanese yakiniku has not been a major part in the USA. We will change this. We are also keeping our prices low, and hope that people around the world will enjoy SHSHIROU's yakiniku from Japan. We have signed a formal overseas licensing partnership agreement with HIS. SHSHIROU has an affinity for HIS's global strategy guiding principle of "promoting Japanese culture and content to the world."
Nakanishi: Finally, please tell us why overseas now? Yakiniku served in Japanese dashi broth is an excellent way to enjoy it.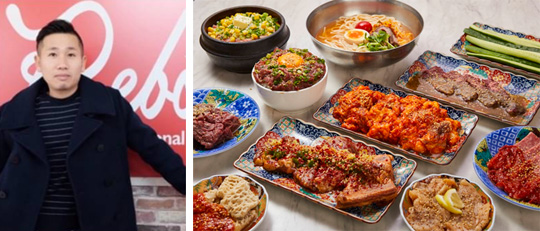 Nagahara: When we go to various countries overseas, we see restaurants and businesses that call themselves Japanese food but are not authentic. That being said, we would like to create more opportunities for people overseas to try authentic Japanese food. This is a great challenge, and we believe that if it is authentic, we will be able to compete. You will understand when you actually eat it. Most of our customers are addicted to our tender hele steak, which can be easily cut with a fork.
I believe that there are many business owners in Japan and around the world who have once and for all rethought their overseas strategies under the influence of COVID-19. We have a winning chance to succeed overseas. That is because SHSHIROU is authentic Japanese food.
Comment by the interviewer
The tender hele meat was very tasty, and the dipping sauce was also addictive.
How far Japanese yakiniku can go in the world? I am very excited about it.