SHIMAUMA BURGER
We interviewed Mr. Machiguchi, president of the local gourmet burger shop SHIMAUMA BURGER, which has been attracting attention after appearing on the Japanese TV program "Tiger of 2022"
Nakanishi: SHIMAUMA BURGER is an interesting name. Can you tell us how it differs from other Awajishima burgers?
Machiguchi: The name is a combination of the words "shima=island" and "uma=delicious" from Awajishima. Most Awajishima burgers generally use a lot of onions along with the patty, but the SHIMAUMA BURGER uses as many Awajishima ingredients as possible, with plenty of Awajishima beef. Onions are fried like onion rings, which are very voluminous and well received. The packaging is also designed to stand out, with contrasting yellow and black colors to make it easily recognizable. The juice cups are cute and many customers take them home.
Nakanishi: I have watched "Reiwanotora". How was the response after your appearance? Also, please tell us about your journey so far.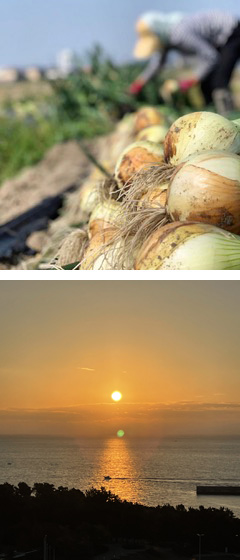 Machiguchi: We had been approached about franchise offer before, but many of our customers had watched "Reiwanotora", so it was a good branding opportunity for us. I was born, raised on and still live in Awaji Island, where the food is delicious and the area is surrounded by the sea and rich in nature. It is now a famous tourist attraction. My family is an onion farmer and I myself helped to grow onions from childhood. Today, all the onions we offer to our franchisees are home-grown. It's normal for us to help with the family harvest at home while attending school. we have been living in symbiosis with onions since birth. My company started out running a café in a converted warehouse in an onion field. We switched from the café business and focused on the hamburger, which was the best-selling item. One day, we sold up to 1,000 burgers, and we started thinking about opening more shops.
Nakanishi: The secret is the onions and sauce?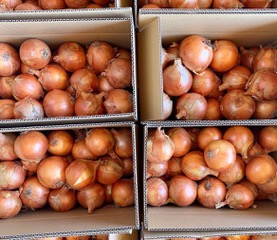 Machiguchi: The sweetness of onions increases by frying. I think the choice of sauces is also a key point. Right now, patties and sauces are produced in our central kitchen. We are also focusing on juices, with a choice of eight to ten different types. We are trying to differentiate ourselves from the mega brands. We strive to evolve every day to make the process of making the food as efficient as possible for our franchisees, while pursuing good taste.
Nakanishi: Finally, this is a standard question with Franchise Japan interviews. Please tell us about your future expansion both domestically and internationally.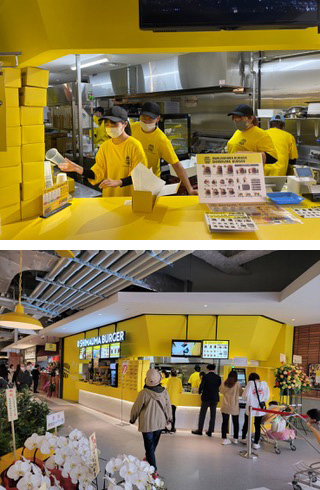 Machiguchi: We have been approached by many people. We still want to give back to Awaji Island, which raised us, without leaving here. Our target is to have around 30 shops in Japan. After that, I think we will take the next step. Currently, we are mainly developing in Kansai region, but we are also receiving franchise offers from Tokyo and Hokkaido, so we are conscious of further expanding our head office functions and optimizing costs. As for overseas, we hope to meet good partners to spread the goodness of Awaji Island through SHIMAUMA BURGER.
Comment by the interviewer
I visited SHIMAUMA BURGER in September and October last year. It was so tasty and generous that I couldn't eat it all, but I ended up it all. The sweetness of the onions is certainly impressive. I look forward to seeing how SHIMAUMA BURGER will enter the burger wars and lead the way in the future.